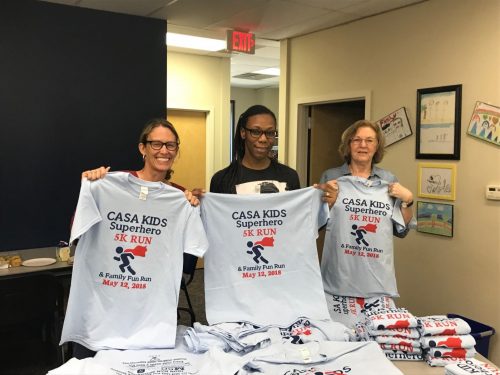 Become an ambassador for Court Appointed Special Advocates (CASA) within your community.  Learn how to speak about CASA, develop new presentation skills, and network with other people who support the CASA mission. Help CASA speak up for more children and educate our community about the challenges for children in the foster care program across New Jersey.
CASA Ambassadors assist in representing CASA at community events, help increase social media presence, network in the community, and assist with information sessions and other educational events.
For more information please send an email with AMBASSADOR in the subject line to Mauri Tyler.  Training will be provided.
Below are additional opportunities that individuals and groups can pursue to help CASA for Children of Mercer and Burlington Counties. Whether you choose to volunteer a few hours per week helping to spread the word about CASA, or provide volunteer support for one of our special events, your time and talents are extremely valuable to us!
Fundraising Committee (meets once per month to plan special events)
Help the recruiting team with presentations, staffing tables at public events, the radio PSA campaign, digital marketing and researching opportunities in both counties.
Special Events (attend special events and assist at check-in, sell raffles, set up, clean up, etc.)
Board of Trustees Member (meets six times per year and assists with strategic planning)
Help with office tasks
Run a school supplies drive or backpack collection
Distribute CASA brochures or posters in your community, place of business or worship
Organize a collection of toiletries for older youth in foster care
Run a new toys collection (we are unable to accept used toys)
Host a fundraiser to benefit CASA
Host a volunteer recognition event
Sponsor a Child