Exactly What Does A CASA Volunteer Do?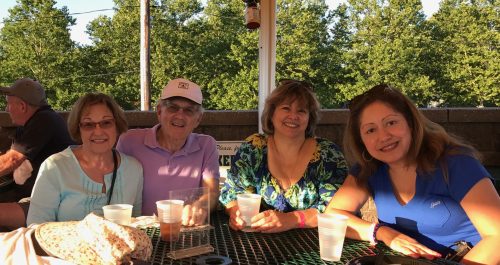 CASA has been best described as the "eyes and ears" of the court and often acts as the "arms and legs" of an overworked child protective system. From helping siblings find permanent homes together, to helping a child access needed services, to uncovering information that helps reunite a loving family, volunteer advocates make an incredible difference to the lives of abused and neglected children. As a system, CASA provides significant cost savings to the tax payer by ensuring children are placed in the most appropriate home possible and as quickly as possible.
CASA volunteers are appointed by the Family Court Judge to advocate for the best interests of abused and neglected children. The primary responsibilities of a CASA volunteer are to:
Gather Information:  Review documents and records, interview the children, family members and professionals in their lives.
Court Reports:  Provide written reports to the court in preparation for all court proceedings.
Attend Court:  Advocate for the child's best interests.
Be the "Safety Net":  Seek cooperative solutions among individuals and organizations involved in the children's lives.
Recommend Services:  Ensure that the children are receiving appropriate services by keeping the parties involved informed of any needs currently not being addressed. Bring concerns about the child's health, education, mental health, etc., to the court's immediate attention.
Monitor Case Plans and Court Orders:  Assist the Court by reporting any deviation from what the court has ordered for the life of the case.
Visit with the Child:  Maintain a consistent and regular visiting schedule with the child, on at least a monthly basis.
Attend meetings to advocate for the child:  Represent the child in meetings with schools, counselors, and other professionals.
Who Can Be A Volunteer?
Anyone who meets the following criteria is eligible to train as a CASA volunteer. Final selection is at the discretion of the CASA program.
Must be at least 21 years of age
Must have the ability to communicate effectively, both orally and in writing to prepare court reports and communicate with professionals
Give a minimum 12 month commitment once assigned
Willing to donate 5-15 hours of service per month
Complete a 33 hour training course
Pass a background check including criminal, child abuse registry, sexual offender registry, and references
Must possess mature judgment, high degree of responsibility and sufficient time to serve the best interest of the child
Must be able to relate to persons of different cultures, ethnic backgrounds and socioeconomic status
Must have lived in the United States for the past seven years (for background check purposes)
What Is A CASA Volunteer?
A Court Appointed Special Advocate (CASA) volunteer is a trained citizen appointed by a judge to represent a child victim in a case of abuse and neglect.
What Training Does A CASA Volunteer Receive?
CASA volunteers receive a combined total of 30 hours of in-person, or as is the case during Covid, virtual training. After the training in complete, the CASAs are sworn in by the family court judge and conclude their training with a mandatory 3-hour courtroom observation. Volunteers are also required to fulfill 12 hours of in-service training per year.
What Is The CASA Philosophy?
The CASA concept is based on the fact that every child has the right to a safe, permanent home. A juvenile court judge appoints a volunteer to the child's case. The volunteer then becomes an official part of the judicial proceedings, working alongside attorneys and social workers as an appointed officer of the court. However, unlike attorneys and social workers, the CASA volunteer speaks exclusively for the child's best interests. By handling only one or two cases at a time, the CASA volunteer has time to thoroughly explore the history of each assigned case. CASA is the only program in New Jersey where volunteers are appointed by the court to advocate on behalf of an abused or neglected child.
How Does A CASA Volunteer Investigate A Case?
To prepare a recommendation, the CASA volunteer talks with the child, parents, family members, DCPP case workers, school officials, health providers, and others who are knowledgeable about the child's history. The CASA volunteer also reviews all records pertaining to the child – school, medical, case worker reports, and other pertinent documents.
How Long Does A CASA Volunteer Remain Involved With A Case?
Our CASA program requires a minimum of a one-year commitment with the ultimate goal of the volunteer continuing until the case is permanently resolved and permanency has been achieved. One of the primary benefits of the CASA program is that, unlike other court principals who often rotate cases, the CASA volunteer is a consistent figure in the proceedings and provides continuity for a child.
How Much Time Does It Require?
Each case is different. A CASA volunteer usually spends about 15 hours a month doing research and conducting interviews prior to the first court appearance. More complicated cases take longer. Once initiated into the system, volunteer advocates work anywhere, on average from 5-15 hours per month depending on the complexity of the case to which they are assigned.
How Are CASA Programs Funded?
CASA programs depend on their communities to support them. Foundations, corporations, fundraising events, annual giving, and grants are just some examples of the ongoing support received by local CASA programs.
How Effective Have CASA Programs Been?
Research suggests that children who have been assigned CASA volunteers are half as likely to re-enter foster care and are significantly less likely to spend time in long-term foster care. A child with a CASA volunteer is also more likely to do better in school, have better conduct, and more likely to find a permanent home.