CASA IN THE NEWS
June 2, 2022
CASA Advisory Committee member and past board member Debbi Roldan was featured in an article about CASA.
CASA Volunteer Debbi Roldan Offers Support for Kids in the Foster Care System
Court Appointed Special Advocates (CASA) of Mercer and Burlington Counties invites the public to its 20th anniversary gala on June 17
There are those who talk and those who do. Passion needs action and long-time Princeton residents Debbi Roldan and her husband, Aldo, are nothing if not passionate about the mission of CASA, the dynamic national organization of Court Appointed Special Advocates for children.
Roldan firmly believes that having highly trained, independent advocates who are solely dedicated to the well-being of at-risk children is the best hope for saving them from falling through the cracks of an over-burdened social system. "We hope to better society by giving a voice to foster children to provide them with the opportunity for a brighter future," she says. "Too many end up in prison as adults because they had no one to nurture and guide them.  This often happens when the children are not adopted or reunited with family, and age out of the system at 18. The adults in their lives have failed them; society has failed them.  CASA makes a difference by training, supporting and supervising advocates who speak up for children in court and in life."
CASA evolved from a grassroots attempt in 1977, by a Seattle, Washington, Superior Court Judge named David Soukup who realized he was being asked to make decisions on behalf of abused and neglected children without enough information. Volunteers become an official part of the judicial proceedings, working alongside attorneys and social workers as court-appointed officers. They speak exclusively for the child's best interests and have the capacity to delve deep into the child's background and needs, handling only one or two cases at a time. In New Jersey, CASA is primarily organized along county lines.  CASA of Mercer Burlington Counties serves the Princeton area and beyond.
Both Roldans had careers in financial services; she began as an economist in the banking sector before becoming a broker with Merrill Lynch.  Debbi paused her career to raise her children, and, as they grew, she looked for volunteer opportunities.  She became more and more intrigued by CASA after being introduced to the program while living in northern New Jersey.
The Roldans have supported CASA of Mercer and Burlington Counties since moving to Princeton in the late 1990s. Debbi served on the board of CASA Mercer and Burlington Counties from 2008 to 2015, but she is quick to acknowledge that other supporters have served actively for years and years. She currently still serves on the CASA advisory committee and continues her active support, recently securing a grant from her church for the program.
"CASA volunteers go beyond the mere mechanics of the legal system to ensure that these vulnerable children receive a wide range of services, making sure their educational and even their medical needs are met," she says.
As an example of the depth of commitment that advocates exhibit, a friend of Roldan's was assigned a child with significant special needs after eight years in foster care. Just as he was to enter his senior year of high school, he was slated to be transferred to another foster family. It is a common practice to move foster children every two to three years for a variety of reasons. The practical effect is that, by adulthood, the child has often been in five or more foster homes and school systems.
Recognizing the massive disruption to the child's mental health that such a transfer would create, as well as realizing the stress that would arise from a new school, a new family, and a new social environment, Roldan's friend unrelentingly protested in court that the transfer was more than ill-advised; it would be detrimental. Knowing her robust advocacy was the result of intimate knowledge of the child's history and needs, the judge prevented the child's transfer.
That's the power of CASA.
Among their continuing efforts on behalf of CASA, the Roldans will host a garden party fundraiser on Thursday, June 2, at their home on Rosedale Road. While this is an invitation only event, such efforts are key to maintaining CASA's dynamic mission.
Another upcoming event, open to the general public, is CASA's 20TH anniversary gala on Friday, June 17, from 6 to 10 p.m. at the Lakeside Ballroom, Boathouse at Mercer Lake, 334 South Post Road, West Windsor. The $250 ticket price includes a live music reception with hors d'oeuvres, beverages, CASA program, dinner, DJ, dance party, entertainment, auction, and more. Dress code request: semi formal.
To buy a ticket click here. Or contact: dkedar@casamercer.org.
All who are interested in working as an advocate to help improve the life of a foster child, please contact CASA of Mercer and Burlington Counties at 609-434-0050 or online at www.CASAMB.org.
Actions speak louder than words.
_________________________________________
CASA is proud to be an active member of the community
CASA's September 2021 Golf Outing was a huge success!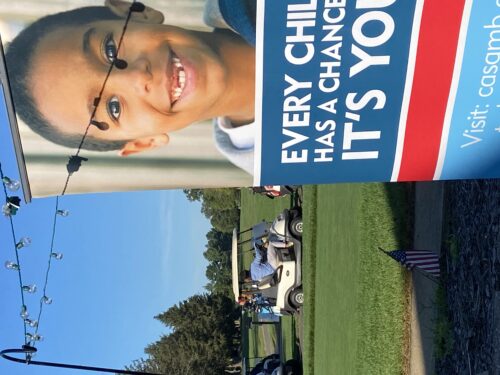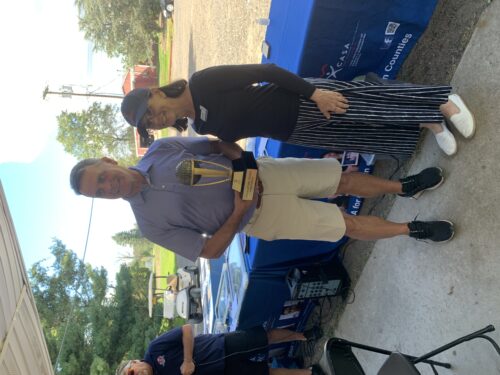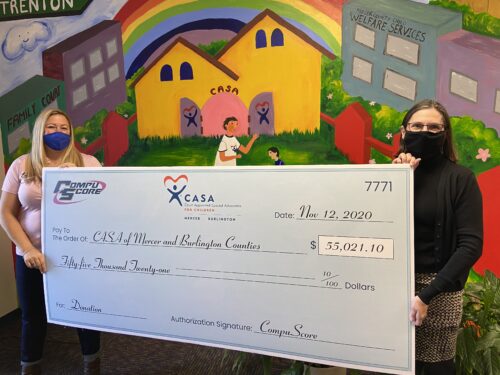 November 2020 — Staci Siconolfi-Lymperopoulos, President of CompuScore (here) presents a check to CASA's Executive Director Laura Wall.  CompuScore's  virtual race, which was held this summer provided significant support to CASA's programs serving local children in foster care.
CASA IN THE NEWS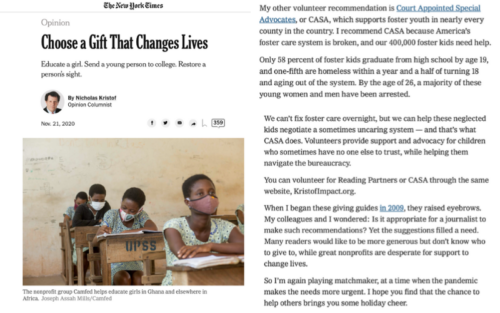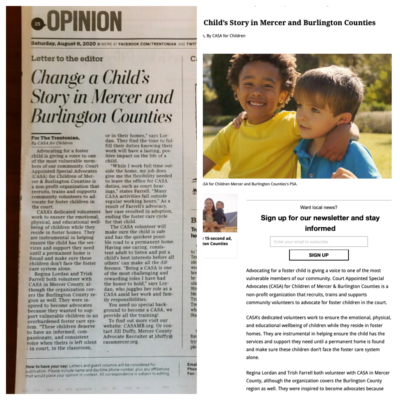 Making Masks with CASA: Delivering Our Masks!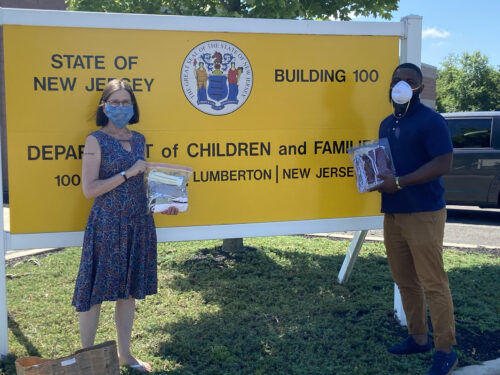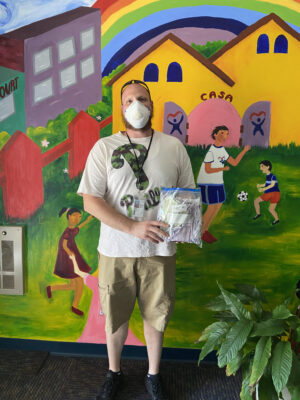 Cookies for CASA! – Thank you to our friends at Investors Bank, who generously donated hundreds of cookies to be delivered to our CASA kids as we resume in-person visits.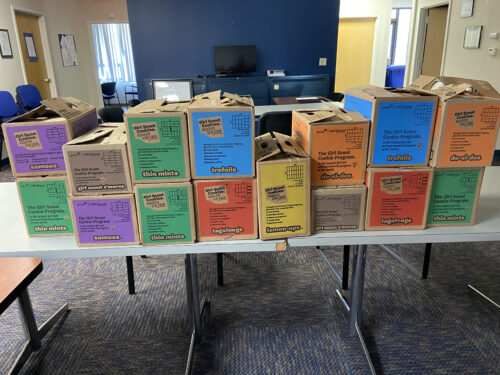 Making Masks with CASA! – In late spring 15 volunteers made over 400 masks for CASA, which will be donated to CASA children and to DCPP case workers in both Burlington and Mercer Counties in early July. See some of our volunteers below.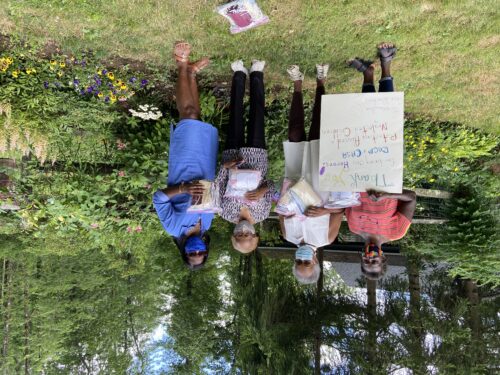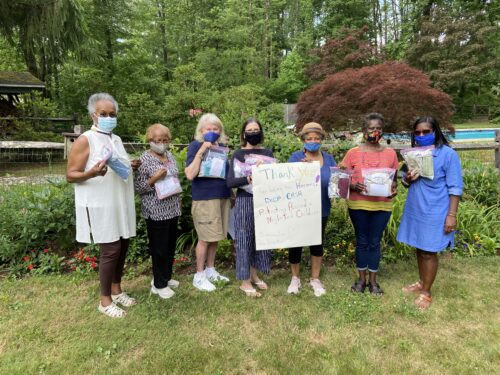 Holman Auto Delivers! – Recently the employees over at Holman Auto were kind enough to come together to make blankets to be donated to children in out-of-home placement. See these great blanket-making volunteers below!