It is encouraging that the number of children in foster care throughout New Jersey continues to decrease, and efforts to keep families together grow.  For the hundreds of children who are in foster care in our region, their CASA is a consistent, caring adult whose impact is life changing.
Evan's story…
Four year old Evan was found with a cotton ball containing fentanyl in his mouth, which caused him to have severe brain damage. After spending months in the hospital, he was discharged to a medical residential facility.
That was when CASA stepped in.  Evan's CASA Advocate, Janet, spent a lot of time with him, with his therapist and with other important people in his life.  Janet learned that Evan spent most of his day in a crib with a TV and little interaction with people. Although he had significant development delays, Evan was still able to learn and identify things.  Due to his placement in a special facility Evan's medical needs were met, but his educational, social, and emotional needs were not.  He was languishing and unhappy.
Evan's CASA made regular and impactful recommendations to the court and painted a picture of the child's day.  The Judge took that work seriously, ordering the Division of Child Protection and Permanency to find special schools that could immediately serve Evan.
While he was in care, Evan's father died of a drug overdose and his mother's parental rights were terminated – leaving Evan available to be adopted.  And Evan was adopted.  Evan has now moved to his new home where his medical, educational, and mental health needs met.
Supporting a child in school…
Where her CASA Advocate met LeAnne for the first time, the little girl was in a class for children with behavioral issues — and she was struggling.  LeAnne's Advocate worked very closely with her school securing important educational services. The school even agreed to try the little girl in a "regular" class for a short while and it went well. Slowly but surely, LeAnne moved to "regular class" full time.
Even though LeAnne changed foster homes several more times, her schoolwork stayed consistent. She continues to receive educational supports – and the caring consistency provided by her CASA Advocate.
Helping a Family Stay Together. . .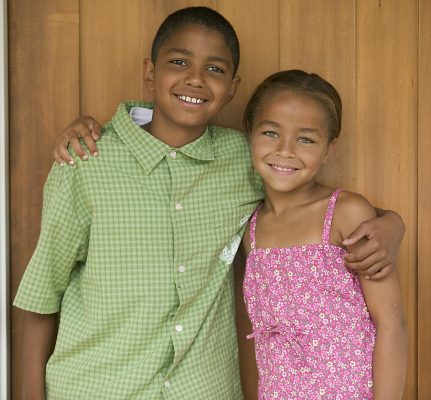 The Robinson family became involved with the state Division of Child Protection and Permanency when the children stopped attending school. When Kenneth, the youngest child, missed a week of kindergarten his concerned school counselor visited the home. What the counselor found was a house without food, not enough beds for all six children, and unsanitary conditions including mice and raw sewage backing up in the bathtub. The children's mother had struggled with mental health issues her whole life. When she was on her medication, she was fine, but she had recently lost her job and gone off her medication, impacting her ability to care for her children. The state tried to help Ms. Robinson access services for her and her children but when she failed to do so the kids were removed. Ms. Robinson grew up in the community and several neighbors also tried to help the family stay together by becoming foster parents. The six children were placed in three different foster homes within their town. Another fortunate event for the children occurred when the Judge assigned three CASA volunteers to their case.
Michelle and Keisha, the oldest siblings felt responsible for their younger sisters and brother and were extremely angry with their mother. Their CASA met with the adolescent sisters and listened patiently to their concerns, but what she heard through the anger were the voices of two girls who loved their mother. Our CASA arranged for the girls to begin attending family counseling with their mother. Soon the four younger children joined the weekly therapy sessions. In the meantime, the three CASA volunteers made sure that the children were all doing well in school.
They worked with the school system to provide tutoring for the children after school in order to catch up on all the content they had missed while home with their mom. By the time the children reunified with their mother, the family had completed family counseling successfully. Ms. Robinson had addressed her mental health issues and was following up with all services she and the children had in place thanks to the support of their CASA volunteers.
Finding a Family for Two Brothers. . .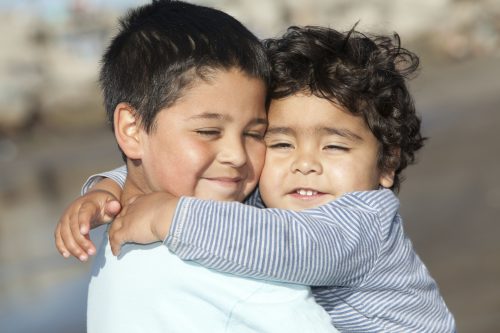 Joe and Bob were initially removed from their home when they were very
young due to physical abuse by a father who struggled with alcoholism.
Their mother was addicted to opioids and disappeared a year after the
boys entered state care. Joe and Bob were then adopted when they were
in elementary school by a family who seemed to provide a stable home.
Unfortunately, their new family struggled with domestic violence and the boys had to be removed several times from their new adoptive parents as a result of physical abuse. After several failed reunifications with their adoptive parents, the boys were placed in a new foster home where they could remain until they turned 21 and aged out of foster care. During this time their adoptive mother surrendered her parental rights, freeing them to be adopted once again. By this time the brothers were adolescents and had been hurt and rejected so many times by the adults in their lives that neither had an interest in being adopted.
Luckily for Joe and Bob, a Family Court Judge concerned with their well-being appointed a CASA volunteer on their case. Our CASA began visiting with the boys regularly and established a trusting relationship over visits to the local pizza shop. She found the boys polite but guarded when it came to expressing their feelings and wishes for the future. Bob told his CASA that he didn't think about a future beyond next week because all his plans always failed. One of the first things our CASA did when she was appointed on the case was to review the brothers' case file. While reading through the file she found a reference that apparently no one else had seen to an uncle that had expressed interest in adopting the boys many years ago. When our CASA asked the caseworker about the suitability of placing the boys with their uncle the caseworker agreed but the CASA would first have to find him and then see if he would still take in two teen boys. The CASA knew she had to do all she could to locate Joe and Bob's uncle. She spent hours searching through the case file for contact information and then on the internet. Eventually she located their uncle, who was living out of state. The uncle was very upset to hear what the boys had been through and was still very interested in welcoming them into his family. Six months later, and days before Thanksgiving, Joe and Bob were adopted by their aunt and uncle. Two years later they are thriving in high school and going on college tours with their new family. Both boys are now able to see a future with many possibilities thanks to our CASA finding their forever family.
Educational Advocacy for a Young Child. . .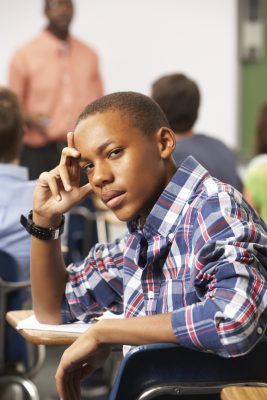 Billy was born with complications related to his mother's opiate addiction. Family reunification was the goal until his mother gave birth to a little girl, Stella, sixteen months later. Like Billy, his sister Stella was also born with medical issues related to her mother's drug use during pregnancy. Unfortunately, reunification was deemed not possible for the children and their mother's parental rights were terminated. The children were placed with an aunt and uncle who wanted to adopt them. The adoption was finalized a year later and at first it seemed as though Billy and Stella had found their forever family; however, things started to fall apart for Billy when he entered kindergarten. The school began having many concerns about Billy's behavior and felt he needed services, but needed assessments completed before they could address his specific needs.
Billy's aunt and uncle were very happy with Stella, but it became clear that they were overwhelmed by the care Billy seemed to need. When Billy was six years old his aunt and uncle returned him to state care. Shortly after Billy returned to foster care a Judge assigned a CASA on his case. Our CASA was a retired teacher and immediately began communicating the school's concerns and suspicions of attention deficit hyperactivity disorder (ADHD) to the state case worker and Billy's foster parent. Our CASA advocated for testing to ensure that Billy was receiving proper services. As a result of our CASA's continued educational advocacy, Billy was assessed by Children's Specialized Hospital where he was diagnosed with ADHD. Our advocate ensured that Billy received therapy at home and in school to stabilize his behavior and increase his likelihood of adoption. Billy has since been adopted by his foster family, is thriving in school and has the kind of life he deserves thanks to the efforts of his CASA volunteer.