CASA's Holiday Wishing Tree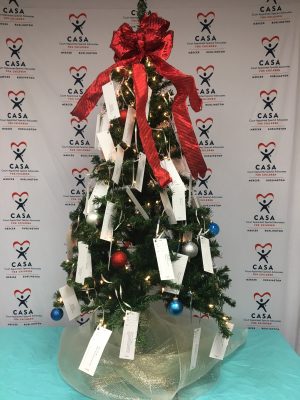 During the holiday season, many children in out-of-home placement feel excluded from the joy of the holidays and memories with their biological family. There is anxiety and sadness due to the fact they are in foster homes or group residential facilities.  In 2017, CASA for Children of Mercer and Burlington Counties initiated an outreach project called the Holiday Wishing Tree to grant wishes for the children who are in our programs.  CASA volunteers spoke to their assigned foster child and received a "wish request" that was transferred to a gift tag and hung on a holiday tree at both CASA's Ewing and Mount Holly offices.
Our community of supporters responded and fulfilled close to 140 wishes expressed by the children in time for the gifts to be delivered to our children.  CASA thanks the wonderful volunteers, staff, board members and neighbors who opened their hearts to make the holidays brighter for children who are dealing with emotional and physical challenges.
To learn about how your civic group, church, synagogue or company could get involved in the 2018 Holiday Wishing Tree event, please call the CASA Ewing office at 609-434-0050 or the CASA Mount Holly office at 609-265-2222.